Decades of breeding experience distilled into the finest available genetic strains
Center of Excellence for Seeds
Our Center of Excellence is where the magic happens. At Yuluka Health, we have spared no expense in creating:
One of a kind facility that showcases our world famous strains
Modern indoor greenhouses for seed cultivation
Outdoor growing areas with expansion capabilities
Seed processing facility capable of producing millions of seeds per year
Colombia is the gateway to Europe for specialty genetics from all over the world. We are establishing a strong marketing sales and distribution network in the EU and have obtained confirmed supply contracts for over 50 million seeds in 2022 and over 600 million seeds in 2023. Furthermore, we expect these supply contracts to increase to over 1.0 billion seeds per year by 2025.
The Colombian government is expediting our seed certificate for export
We have set up wholesale contracts with two of the largest wholesalers in the EU.
All seeds are tested prior to shipment and conform to EU legislative requirements (phytosanitary certificate and free from harmful organisms)
The point of entry for seeds into the EU is through the Netherlands
We are currently in discussions to complete any additional documents required by the Netherlands to ensure a smooth export process.
Fully Compliant Operations
Our operations are fully registered with the government of Colombia. Yuluka Health has taken all the necessary steps to ensure that we are fully compliant with the municipal and national regulations. Beyond what was mandated, we have built our Center of Excellence for Seeds to comply with the most demanding international standards worldwide.
Our Genetics are where we stand out from the crowd. Our credentials speak for themselves
Over 30 years of research, travel and acquisition and collection of international strains from around the world
A library of over 106 unique cultivars holding all the required licenses and permits needed in Colombia
All strains are acclimatized to the Colombian landscape with tested, validated and registered strains available for large scale growth
In addition to our team of breeding experts who have planted deep roots  within the industry, our library of strains are diverse, and customizable to the clients' preferences. Newly created strains are patentable within Colombia and USA as well.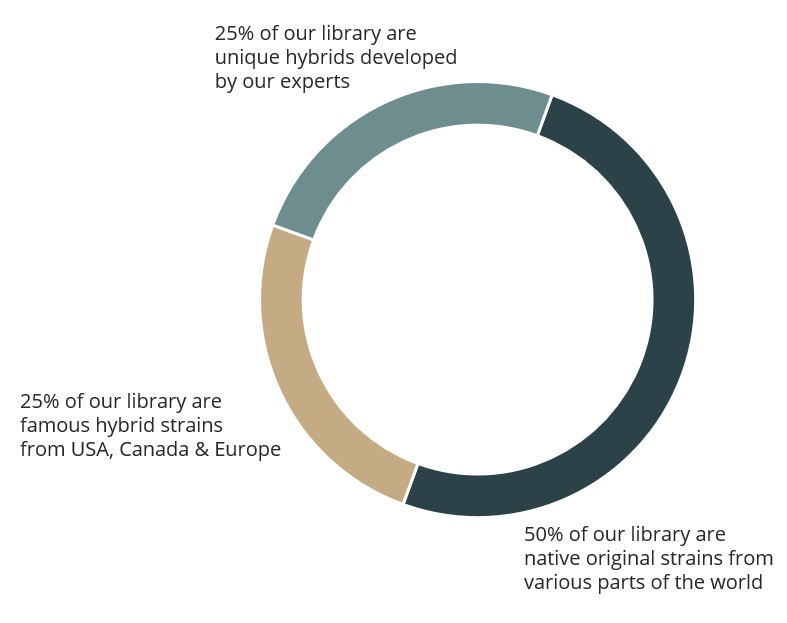 We are increasing our capacity to supply genetics to the European market and the world. At our current expansion rate, we are on track to reaching an annual capacity of 1.5 billion seeds per year by the end of 2025.